Many investors today are looking to capitalize on the increased worldwide demand for silver. With the use of an online trading platform, trading silver has never been easier. The growing popularity of Forex Trading enables traders to leverage the price of silver up to 200 times the deposited amount, thus enabling a trader with only a limited amount of risk capital the opportunity to take advantage of even the smallest fluctations in the price of the metal. It is a good idea for beginners to start out with a demo account before attempting to risk their own money online. Once you are more comfortable with the platform, you can always switch over to a live account.
The price of silver has been undervalued for a long time ever since the Hunt brothers attempted to corner the Silver market in the late seventies when the price of silver was driven to its highest level ever at over fifty four dollars an ounce. Similar to gold, the fundamental demand for silver is now outpacing its capacity to supply the worldwide appetite for this investment. Many online dealers of silver coins and bullion are demanding significant premiums above the spot trading price of silver.
Basics of Silver Trading Online in the Forex market
Silver is the second most popular precious metal investment option among traders right after gold. Similar to gold, silver does not experience extreme volatility in price making it the perfect investment option for beginner forex traders to benefit from silver trading online.
Silver is termed as a "commodity currency" in the online forex market with the symbol XAG. The price of silver is quoted in ounces. Although silver prices are fairly stable they do experience short term volatility making them an ideal investment option for traders looking to profit from fluctuating prices.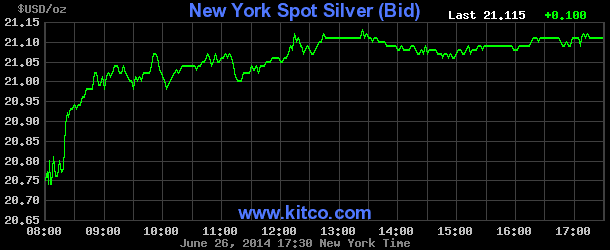 As you can see from the graph above the price of gold was mostly stable during a day trading session. Yet during the time period 8:30 am – 9:00am and 10:00 am – 10:30 am, silver prices experienced a steep rise and fall in prices. Whether you go long or short (buy or sell silver currency against USD, EUR etc.), you can gain either way by silver trading online.
Note: Silver trading online entails similar risks to trading other currencies in the Forex market. Certain elements such as leverage, margin, and lot size increase the risk of investment in the Forex market. You should be aware of these risks before trading silver in the online Forex market.
Step 1: Select an Online Commodity Forex Broker
The first step of silver trading online in Forex market is to select a reliable online broker that allows trading commodities in the Forex market. You can find a large number of such online forex brokers by googling "silver trading online".
Since US citizens are not legally allowed to trade in precious metals using leverage, the online Forex brokers offer 1:1 leverage for these account. In other words you cannot borrow any sum from the online broker to trade silver in the online Forex market.
Furthermore, when selecting an online commodity broker, you may encounter the words "Dealing Desk" and "Non-Dealing Desk" and "STP". These terms refer to the modus operandi of online brokers in generating their revenue.
A "dealing desk broker" can trade against other traders creating a conflict of interest with the clients. Contrarily, a "non-dealing desk" or "STP (Straight Through Processing)" are interchangeable words for brokers who do not trade against their clients and only gain through the commission and/or spreads of each Forex transaction. Therefore, most forex brokers generally prefer the latter as compared to the former online forex broker.
Step 2: Sign up for an Online Account
After selecting a specific online Forex broker, the next task is to set up an account with the broker. You have two options when it comes to creating an account with the online broker. The first option is to create a demo account that lets you practice silver trading online using real life data. You create the account by entering basic details such as name, email address, and password for setting up an account with the online broker.
The other option is to create a Live account that allows silver trading online for real. When creating the live account you have to enter additional information such as your postal address, income, DOB etc. These online brokers may also request you to provide additional e-documents such as bills, bank statement, passport/NIC to verify your identity.
Upon entering these details, you will be sent a confirmation email to your provided email address. Some online brokers may require that you verify your email address by clicking on the link contained in the sent email. While others do not ask for verification.
Step 3: Log in to Your Account
Once your email is verified, you can enter the name and password provided during sign up to log in to your account. However, you account will remain inactive until the online broker firm verifies your identity through assessing the information that you provided to the firm. This can take up to two to three days or more depending on the amount of applications being processed by the online broker.
Step 4: Start Trading in Forex Market
You can start silver trading online in Forex after getting approval from the online Forex broker. At first, you have to select the base or primary currency in which you will fund the account. Various online brokers allow this in different currencies. Once you have selected the base currency, your next step is to select the initial amount you want to enter to trade in the Forex. This amount will be in the form of currency that you have selected as the base currency.
Now you can place your order to trade silver with other currencies. Most online Forex brokers allow pairing of silver with USD currency (XAG/USD)only. But a few online brokers allow pairing of silver with other currencies.
If you want to go long on silver, you can order to "buy" a specified amount of silver limited by the funds in your account. Contrarily, if you want to go short on silver, you can order to borrow specified units of silver based on the funds in your and then "sell" it in the Forex market.
When you place an order with your online broker, you can also set limits for upper bounds, lower bounds, stop loss, take profit, trailing stop loss etc. to minimize the risk of loss due to fluctuating prices. Once you are happy with the choices, you click on submit to confirm your order.
Now the silver currency pair is active in the Forex market. You can track the performance of silver through the active windows of the online Forex platform. Once, you feel that the trade has attained your target profit level, you can close the account to obtain the profit from the trade.
Try a Silver Trading Demo Account
The increased demand and activity in the silver market represents an opportunity for those looking to trade silver. Some investors actually prefer silver over gold as an investment. In recent years many sophisticated investors around the world have been accumulating this precious metal adding to the new reality that supply is becoming more and more scarce of the physical metal itself. The strong interest in silver is a result of numerous factors including insignificant increases in mining production, strong demand for silver jewellery since the price of gold has become expensive for many countries with strong consumer jewellery demand such as India, and the heavy buying of silver coins which has left many nations unable to keep up with mint production.
Learn to Trade Silver with A Forex Trading Platform
It is important to understand that the market for silver is very small relative to other larger markets such as the currency markets or even the gold market. The result of this is that silver can provide for a very volatile market for trading activity. It does not take much to drive the price of silver in any direction upward or downward. For a trader using a forex trading platform one can buy silver against other major worldwide currencies if they believe that the price of silver is going to go up and they can also buy major currencies against the price of silver if they believe that the price of silver is going to go down.