Forex gold trading is a high-risk activity that requires making quick decisions that can make or break a trade. Therefore, it is necessary to select the best online broker that provides the most reliable services to trade gold online. However, picking an online broker can no doubt be a daunting task especially for traders new to the scene of trading gold online in the Forex market. Thousands of Forex brokers provide the services of trading gold online in the Forex market. Each of these brokers tout that their services are the best in the entire market. So, how can you determine which is the best online broker for trading gold online in the Forex market?
Here we provide a list of criteria through which you can filter the best online Forex broker and select the one that provides the most dependable service at optimum terms and conditions for trading gold online in Forex. Before opening an account with a Forex broker you should consider the following factors to determine whether the online broker is trustworthy and reliable.
Registered Forex Broker
Before depositing any money with a specific online Forex broker you should determine whether the online Forex broker is registered with a trustworthy regulatory authority. A number of regulatory authorities exist in Australia, North America, Europe, and Japan. These regulatory authorities regulate online Forex brokers to determine whether their activities are in line with the interest of online Forex traders.
Some of the regulatory authorities in various countries include the following:
Australia: ASIC, AFSL
Canada: CIPF, OSC, BCSC
Denmark: Danish FSA
Cyprus: CySEC
Germany: BaFin
Hong Kong: SFC
Japan: FFAJ
Spain: CNMV
Sweden: FI
Switzerland: ARIF, FDF, GSCGI
United Kingdom: FSA
United States: NFA, CFTC
Most online forex brokers are regulated in their home countries where they have a registered head office. However, there some online brokers that are registered in several countries. For instance, Easy Forex is regulated by ASIC and AFSL (Australia), CFTC and NFA (USA), CySEC (Cyprus). Obviously the more oversight brings more security to your investment.
Leverage Ratio and Margin Requirements
Leverage ratio and margin requirements are an important consideration before choosing a specific online Forex broker. Higher the leverage ratio or lower the margin requirements higher is the potential of earning greater returns on investment. However, it also increases the risk of investment. That is why beginner Forex traders should select an online Forex broker that offers the lowest minimum leverage or highest margin requirements. They should increase the leverage gradually as they become more proficient in trading gold online in the Forex market.
For experienced Forex traders there is no ideal ratio requirements. Rather than minimum ratio requirements, they look for maximum leverage and margin ratio requirements. Since the trading strategies of expert Forex traders differ, there are no general rules for determining the optimum ratio requirements. However, traders who want to hold a currency position long term should look for an online Forex broker that offers a minimum leverage ratio of 10:1.
Spread Margins
It is advisable to select an online Forex broker that offers the lowest spread margins. Low spread margins allows you to obtain better gains from the forex trade. High spread can ruin your online Forex strategies especially when you are using day strategy scalping.
Most online Forex brokers also offer fixed and variable spreads. In general it is preferable to opt for online Forex brokers that offer fixed spreads. Fixed spreads are generally higher but they remain fixed regardless of the market news or economic conditions. Variable spreads, in contrast, are lower yet they are heavily influenced by market and economic news that may be favorable or unfavorable for trading in the Forex market.
How to Trade Gold with an Online Trading Platform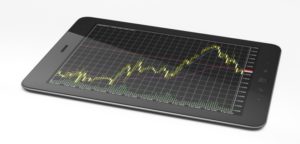 Online trading platform is the backbone through which all trading activities is conducted in the Forex market. Therefore, it is important that you give due consideration to the online trading platform offered by the Forex brokers. You should seek a trading platform that offers a wide array of technical indicators and charting tools to evaluate currency pairs. Apart from this, you should consider the following factors in evaluating online trading platform.
Is the interface uncluttered and clean?
Are the servers of the online Forex broker are fast and reliable?
Are there are connection problems especially during peak trading sessions?
Does it allows accessing the account with Smartphone and tablets?
There are some of the basic questions that you should consider while evaluating an online trading platform. A reliable, fast, and quality online trading platform will make trading gold online in the Forex market a whole lot easier for Forex traders.
ECN or MM Forex Broker
Basically there are two types of Forex brokers – ECN (Electronic Communication Network) Forex broker and MM (Market Maker) Forex broker.
ECN Forex brokers offer the lowest spread margins and are extremely reliable. Moreover, they do not trade with their clients which prevents conflict of interest with these online Forex brokers.
MM Forex brokers, on the other hand, offer higher spread margins. They may also sometimes trade against you causing conflict of interest with the clients. It is possible that MM Forex brokers will manipulate the price of the currency pair by creating artificial spikes. MM Forex brokers are further subdivided into two types:
Non Dealing Desk (NDD) Forex brokers
Dealing Desk (DD) Forex brokers
NDD Forex brokers are preferable as they execute the task immediately at the price you had selected. DD Fore brokers, in contrast, can change or "requote" the price even after you had executed the trade.