There are a number of Risks and Rewards to gold forex trading. Learning to Trade Gold in Forex market allows you to benefit from one of the most lucrative investment avenues. Trading in currency offers you the chance to earn huge profits within a short duration. However, the unstable nature of the fiat currency means that there are also risks attached with the trade.
You should be aware of the forex trading benefits and risks. You would be more successful in Forex trading if you learn to trade in Forex while keeping in mind the risks and rewards attached with currency trading.
Reward of Trading in Forex Market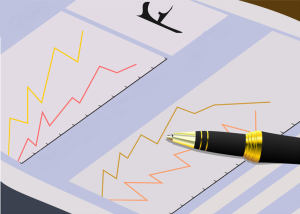 Gold forex trading is the one of the largest and liquid investment platform that allows you to earn huge profit from the trade. Forex market size and relative stability increases the chance of earning windfall returns from the currency trade. Skilled Forex traders have earned billions of dollars from the currency trade signifying there huge potential for earning great returns.
24-Hours Open Market
The main benefit of investing gold in forex market is that it is open 24 hours a day, starting from 5 p.m. ET Sunday to 5 p.m. ET on Friday. You can trade in Forex any time of the day and gain from the trade. The 24-hours open market allows you to trade in Forex according to your own schedule.
Extremely Liquid Market
Forex trade is one of the most liquid markets in the world with trillions of transactions occurring daily in the Forex market. The extreme liquid nature of the trade allows you to trade in huge volumes and gain potentially large profits from the trade.
No Physical Delivery
Another benefit of trading gold in the Forex market is that it does not involve any physical transfer of gold between buyers and sellers. This saves cost of storage, transport and insurance that is inherent in physical ownership of gold. Saving of these costs means that the net earning potential from price differential of gold is greater in Forex trade as compared to physical trade in gold.
Advanced Gold Forex Trading Strategies
Trading gold online in the Forex market allows you to benefit from advanced strategies to accurately determine the future trend of gold prices. The online Forex platform contains a number of technical and fundamental analysis tools to make it easier to chart future prices of gold and earn profit from the trade.
Gain from Leverage
One of the great benefit of trading gold in the Forex market is that it allows traders to gain through leverage. Leverage facilitates traders to take control of currencies with values up to 50 times the amount contained in their account. Higher leverage increases the chance of earning greater returns on favorable trade outcome.
Although, US residents are not legally allowed to avail leverage while trading gold in Forex market, nonetheless they can benefit from leverage by trading in currency pairs that are strongly correlated to gold prices.
Risks of Trading in Forex Market
Trading gold in the Forex market provides great benefits for traders. However, there are certain risks attached with the trade that traders who are new to Forex trading and learning to trade in Forex should know so as to protect their savings from potential losses. Forex trading benefits and risks come hand in hand, after all.
Exchange rate Risks
Traders speculate in the price of currencies in Forex trade. There is a chance that the price may not move as expected resulting in loss for the traders. Higher orders not only increase profit potential but also increase risk of loss on the currency trade. Traders are therefore advised to judiciously make use of stop-loss and limit order options to limit exposure to adverse price movements.
Bid-Ask Spread Risks
Apart from price risks, trading gold in Forex also involves spread risks. Basically, there are two types of prices quoted in the Forex market viz. bid price and ask price. Bid price is the price at which you can buy the currency while ask price is the price you can sell the currency. Generally the bid price is higher than the ask price. The difference between the bid-ask price is known as spread. Greater spread increases the risk from investment as it means that price has to rise higher to cover the difference in bid-ask spread and earn profit from the trade.
Interest Rate Risk
Interest rate risk is also present in trading in currency. Generally, rise in interest rate results in strengthening the currency. Rising interest rate means investors will purchase bonds to gain increased yields. This will result in increase demand of the local currency to buy the bonds resulting in appreciation of the currency.
Leverage Risk
Although increases the profit earning potential in Forex trade, it is not without risks. Leverage allows you to invest in larger amounts with much smaller investments. This raises profit potential of the Forex trade but with an increased risk of loss.
Professional experts recommend that the leverage ratio should be 20:1 or even 10:1 to minimize leverage risk in Forex trade.
Even when market conditions are relatively calm, leverage can create large gains or losses very quickly. This may cause your broker to take action to avoid a negative account balance or to avoid your account exceeding that maximum allowed margin. In either case, your broker, without prior notification, may close any or all open positions in the account to remedy the situation.
Operational Risk
Operational risk is risk of loss due to error in the trading software that does not execute the order on time. Gold forex trading requires lightning fast execution to gain from price fluctuations. Technical error may result in an adverse outcome of the trade resulting in loss for the Forex trader. This is why it is advisable to invest in reliable online Forex trading platforms to minimize the risk of operational loss from ruining the outcome of the trade.
How to Trade Gold?
Take advantage of the daily changes in the price of gold. Start trading gold today by opening a trading account with easyMarkets and get up to $2000 bonus*. As an industry first, they have also launched a unique deal cancellation tool as a way to manage your risk on any bad trades. By selecting dealCancellation on the trading platform whenever you make a trade, you can cancel your losing trade within 60 minutes and get your money back. *Terms and Conditions Apply