Forex trading is an art that only a few traders are able to master. It takes a lot to time, patience, and persistence to learn the best Forex strategies that results in successful trades. The trouble is that not all people are that disciplined or motivated enough to learn Forex trading strategies that provide successful outcome in the forex market.
Here we are going to reveal 4 of the most effective forex trading strategies that work. Although there is no guarantee that these strategies will accurately predict price trends, yet they do increase the probability that the price will move in a specified direction.
What are the Best Forex Trading Strategies?
1. Scalping
Scalping is an effective strategy for making gain from very short term trade using high leverage. The aim is to gain from movement of a few pips in the forex market. The trade can be placed for a few seconds a day. However, this strategy can be dangerous and is not recommended for beginner traders new to the scene of forex trading.
The forex trading strategies do work but you have to know deeply about the prevailing market conditions that underlie a specific currency pair. If not applied correctly, scalping strategy can result in a great loss in a very short amount of time. Even for advanced traders, it is recommended to not use this strategy frequently as there is a lot of risk in applying this strategy in the Forex market.
2. Hedging
Hedging is another great strategy that reduces the risk of investing in the forex market. The strategy reduces risk by taking two different positions on the same trade. There are various ways to hedge in forex trade. One option is to initiate a short and long position on the same currency pair. The other option is to use two different pairs to hedge in the forex market.
For instance, suppose that you want to go long (buy) on the currency pair, XAU/USD, because it is at its lowest prices. After setting up a long position, there is an indication that it might go even lower. In such case you would find a currency pair that is inversely correlated to your currency pair such as USD/EUR. In order to hedge your currency pair, you go long (buy) this currency pair as well. If the XAU/USD pair does go downwards contrary to expectation, the gain you obtain from the USD/EUR will offset the loss. Hedging, in effect, minimizes risk from the forex trade thus allowing you to maintain your capital.
3. London Hammer Trade
London hammer trade is a great forex strategy that allows you to exploit some unique opportunities present in the forex trade. This strategy is especially applicable to gold and other precious metal currency pairs. You may know that the price of precious metals such as gold and silver is fixed in the London market.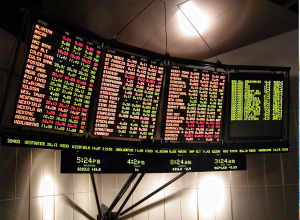 There is slight volatility in the gold prices when the market opens in the morning. This presents a great opportunity for traders to exploit the situation and capitalize on the opportunity. London Hammer Trade strategy exploit such situation and allows forex traders to gain from the trade.
4. Position Trading
Another great forex strategy to gain from the trade is position trading. This strategy is based on the position you take on a specific currency pair. The position you take refers to average price of a currency pair during a specified period.
For example, if you take a long position on XAU/USD at 1200.02. The currency pair and advanced two pips to 1200.04, and you take another short position. Then your average position would be 1200.03. Now, if the XAU/USD currency price drops back by 1 pips to 1200.03, your trade would still be profitable.
Good forex trading is about keeping a good watch on the market and exploiting opportunities that present in your way. It is important that you gain more information about the above strategies if you want to gain from trading in the forex market. The above list of forex trading strategies that work is not exclusive, meaning you can use two or more of the above strategies, it all depends on the overall market condition and sentiment regarding a currency pair.
How to Trade Gold?
Take advantage of the daily changes in the price of gold. Start trading gold today by opening a trading account with easyMarkets and get up to $2000 bonus*. As an industry first, they have also launched a unique deal cancellation tool as a way to manage your risk on any bad trades. By selecting dealCancellation on the trading platform whenever you make a trade, you can cancel your losing trade within 60 minutes and get your money back. *Terms and Conditions Apply