What are the different forms of gold ownership? Should I buy gold mining stocks, or gold bars and bullions? Which one will provide better returns on my investment?
Most investors are unaware about the various investment options available to them when it comes to gold. The above are some of the questions that hover in the minds of first time gold investors. Assuming that you have also decided to invest in gold, the same types of questions may also be circulating in your mind.
First time gold investors have to decide whether to invest in gold mining shares or physical gold. You should remember that investing in stock mining shares is NOT a substitute to physical gold investment. There are subtle differences in owning gold mining stocks and physical gold. Gold stock shares represent a claim in the mining companies of gold. Investing in physical stock entails buying gold bullions, coins, bars, and jewelry.
Here we will appraise the two investment options to make it easy for you to decide which investment option is suitable for you.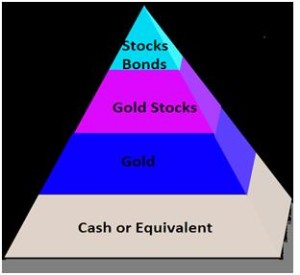 Comparison between Physical Gold Investment and Gold Mining Stocks
Investments in physical gold and gold mining stocks are both viable avenues. They offer the same investment benefits of gold like inflation hedging and portfolio diversification. The returns of both of these investment options are negatively correlated to normal stock returns. That is why experts recommend that you should diversify your stock portfolio by allocating 10-15% of your investment in gold.
Despite the similarities, the two investment options are associated with different amount of risks and returns. Owning physical gold poses the least amount of risk than any other investment option.
If you were to make an investment pyramid of risk, physical gold will occupy the second tier (low risk) with Gold stocks in third tier (moderate risk) depending on the type of mining company and their financial position.
Owning gold mining stocks is of a speculative nature like stock or bond market investment while buying physical gold is similar to savings in IRA or 401k. However, with great risks comes great potential of returns. Therefore, the potential of returns is also higher with gold stock investment.
The returns of both the gold investment options go in the same direction. But generally over the long term, returns of stock mining companies are five to ten times higher as compared to appreciation in physical gold price.
Since investing in shares of stock mining company is a speculative activity, their share prices rise in geometrical proportion in case of rise of gold value. The fall of gold, on the other hand, does not result in steep decline in gold stock share price as gold is regarded a blue chip stock so there is a steady demand of their shares.
Some other factors that you should consider before investing in gold include:
Physical gold does not provide dividends. Gold mining stocks do pay dividends when they are profitable.
Physical gold does not plummet in value in case of wars, financial meltdown, or political unrest. Mining stock shares, on the other hand, can plummet in these extreme scenarios.
Physical gold is a liquid asset and can easily be bought and sold. Mining shares are not that liquid and it takes comparatively longer to sell these financial assets.
Conclusion
The best course of action is to own both gold mining shares and physical metals. This will allow you to gain maximum benefit from the gold investment while also the hedging against potential risks. The combination of both these investment options provides the most benefits in diversifying once investment portfolio.
How to Trade Gold?
Take advantage of the daily changes in the price of gold. Start trading gold today by opening a trading account with easyMarkets and get up to $2000 bonus*. As an industry first, they have also launched a unique deal cancellation tool as a way to manage your risk on any bad trades. By selecting dealCancellation on the trading platform whenever you make a trade, you can cancel your losing trade within 60 minutes and get your money back. *Terms and Conditions Apply