Mother Nature has blessed our Earth with abundant natural resources that play a vital role in sustainability of life on this world. Gold is one of those natural resources that affect economic and social lives of millions of people around the world.
Today, the majority of gold deposits are derived from hard rock deposits.  From this hard rock, gold is mined from open pit mines or from underground mining. Gold mining is a huge industry nowadays with millions invested in the shares of these mining companies. It is the next best thing to owning gold that gives higher returns, although, with greater price swings as compared to investment in physical gold.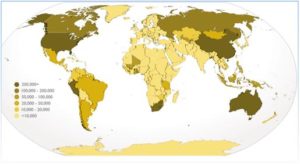 Here we present three of the hottest gold mines around the world that are known to provide the best value for their shareholders.
Nevada Gold Mines, USA
Although tourism and gaming continue to provide the largest employment in Nevada, gold mining also contributes significantly to the economy. Gold is mined from large open pits. Unlike coal and oil extraction, gold mining companies do not have to pay royalties for obtaining minerals from the ground under the Gold Mining Act of 1872.
Nevada gold reserves are ranked as one of the largest gold reserves in the world. Carlin and Cortez gold mines in Nevada rank as eighth and ninth largest gold mines in the world respectively. These regions possess around 32.93 million ounces of gold.
Some of the important mining companies that are operational in the area include:
Allied Nevada (CVE:ANV),
Atna Resources (TSE:ATN),
Barrick Gold Corp. (ABX.TO),
Newmont Mining Corp. (NEM:US),
Evolving Gold Corp. (CVE:EVG),
Terraco Gold (CVE:TEN),
Klondex Mines, Ltd. (CVE:KDX),
Midway Gold (CVE:MDW),
US Gold (TSE:UXG) (NYSE:UXG),
Miranda Gold Corp. (OTC:MRDDF), and
Yukon-Nevada Gold Corp. (TSE:UXG)
Western Australia Gold Reserves, Australia
The WA Gold deposits possess about 45% of Australia's impressive gold reserves. It is estimated that these deposits contain around 4,431 tons of untapped gold reserves. Much of the gold reserves in the is located within the greenstone belts in the area of Yilgarn Craton.
Recently large gold deposits have also discovered in Laverton, Kalgoorlie, Boddington, Mount Magnet, Kambalda, and Wiluna.
Some of the mining companies with operational base in the area include:
Talisman Mining (ASX:TLM)
Chrysalis Resources (ASX:CYS)
Augur Resources Ltd. (ASX:AUK)
Talga Gold (ASX:TLG)
Yukon Gold Deposits, USA
The White Gold District is situated within the Tintina Gold Belt, which extends from British Columbia to Fairbank in Alaska. Major mining companies have spent around $150 million in the last three years in exploration efforts in the area.
A geological model of the area shows that some of the area are still untapped and may require major exploration activity to increase the chance of finding additional gold deposits. This should be interesting to potential investors as if the exploration efforts in the untapped are becomes successful, it could lead to appreciation in the share price of the relevant companies.
The active mining agencies in the area consist of:
Stina Resources (CVE:SQA)
Pacific Ridge Exploration (CVE:PEX)
Stakeholder Gold Corp (CVE:SRC)
Northern Tiger (CVE:NTR)
Central Resources (CVE:CBC)
Kinross (TSE:K) (NYSE:KGC)
Kaminak Gold (CVE:KAM)
How to Trade Gold?
Take advantage of the daily changes in the price of gold. Start trading gold today by opening a trading account with easyMarkets and get up to $2000 bonus*. As an industry first, they have also launched a unique deal cancellation tool as a way to manage your risk on any bad trades. By selecting dealCancellation on the trading platform whenever you make a trade, you can cancel your losing trade within 60 minutes and get your money back. *Terms and Conditions Apply