Fundamental analysis refers to examining key economic indicators to predict currency price action and trends. It involves examining government policies, employment levels, inflation and interest rates and various other factors to determine future currency prices. Renowned Forex investors like George Soros, Jim Rogers, Marc Faber and others openly declare that they owe their success to the elixir of fundamental analysis.
Basics of Fundamental Analysis in Gold Bullion Trading in Forex
Both beginner and experienced Forex investors alike make the mistake of relying solely on technical analysis while ignoring fundamental analysis in trading gold bullion and other currencies in Forex trade. However, the fact is that fundamental analysis is the most reliable and successful method for trading profitably in the Forex market.
Smart Forex traders favor the blended approach of using both fundamental and technical analysis in making decisions apropos Forex trades. It increases the chance of making correct forecasts leading to profitable trades in the Forex market. Studying fundamental economic indicators gives you a clear picture of the future trend of currency values. It aids you in analyzing historical currency values and projecting these values into the future.
Fundamental Market Drivers
The first step in fundamental analysis is to determine market drivers that have a major bearing on the currency values. There are different market drivers that affect currency values in medium to long-term duration. You should look at the most important market drivers that drive currency values either in upward or downward direction.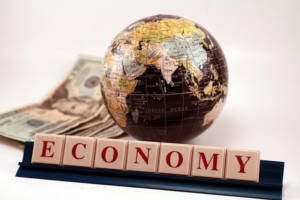 Some of the market drivers that are studies in fundamental analysis include the following:
Gold and US dollars
The link between gold and us dollars is the most important factor that determines direction of the currency values. Generally, when gold is moving in upward direction, us dollar moves in the downward direction. The currencies of countries that are largest exporters of gold also experiences rise with the rise in gold market prices. Live Gold Charts Click Here
The reason for this trend is that gold is considered a safe haven during economic upheaval. Investors turn to gold to safeguard their investment during recessionary times. As the dollar value declines due to declining productivity and adverse balance of payment during the recession, value of gold and other related currencies experience an upward trend. With this trend in mind, traders can gain from the Forex trade by selling USD currency pair during recessions and buying the pair during an economic boom.
Interest Rate and Inflation
Interest rate and inflation are also important market drivers that influence currency values. Generally, interest rate determines how much it costs to borrow money. This cost strongly influences the increase or decrease in currency demand by investors.
If the interest rate of a country is higher than its neighbors its currency price strengthens as it attracts foreign investors to purchase government bonds and bills. Contrarily if the interest rate of the currency is lower than its neighbors it currency weakens as investors flock to investing in other countries bonds and bills to earn interest income.
Similarly inflation rate is also an indicator of rising or falling currency prices. Inflation erodes the value of fiat currency. Investors exchange their dollar savings for gold bullion during rising inflation. This results in decline in the dollar value. Currencies that are positively correlated with gold like AUD, NZD and CHF also experience rising values during inflationary periods.
Rise in Oil Prices
Currencies of oil-dependent countries with highly developed industries like US and Japan are strongly influenced by fluctuating oil prices. During rising oil prices, the currencies of oil dependant currencies declines while that of commodity-based countries like Australia and Canada rises.
Other Economic Indicators
There are other economic indicators that forex investors examine in fundamental analysis. Following are some of the indicators that are important in fundamental analysis.
Real Estate Activity
Traders examine real estate activity level to determine prevalent economic condition of a country. High real estate activity levels indicate strong condition of the economy with low interest rates. This signifies rising values of the currency in the Forex market. Alternatively, weak activity in the real estate sector signifies weak condition of the economy with high interest rates and falling values of a currency in the Forex market.
Retail Sales
Retail sales are an indicator of consumer spending pattern during a particular duration. High retail sales generally indicate strengthening of the economy with subsequent rise in currency values. On the other hand, low retail sales generally indicate weakening of the economy with subsequent fall in currency values.
Purchasing Managers Index (PMI)
The Institute for Supply Management release a monthly index called PMI (Purchasing Managers Index) that depicts current national manufacturing conditions. This index includes data on production levels, new orders, inventory levels, prices, export and import orders and other data. Traders can use these information to gauge the condition of the economy and predict currency values.
Besides the PMI, Forex traders study various other indexes in fundamental analysis. Some of these include GDP (Gross Domestic Product), Producer Price Index (PPI), Employment Cost Index (ECI), and Consumer Price Index (CPI) that are studied by Forex traders to determine the condition of the economy.
Fundamental analysis forms the foundation of technical analysis in Forex trade. One cannot correctly forecast future trends using any one of these analytical tools. Both fundamental and technical analysis is needed to correctly gauge future prospects of currency values that results in profitable trade in the Forex market.
How to Trade Gold?
Take advantage of the daily changes in the price of gold. Start trading gold today by opening a trading account with easyMarkets and get up to $2000 bonus*. As an industry first, they have also launched a unique deal cancellation tool as a way to manage your risk on any bad trades. By selecting dealCancellation on the trading platform whenever you make a trade, you can cancel your losing trade within 60 minutes and get your money back. *Terms and Conditions Apply